The home fall prevention checklist for older adults created by the CDC and MetLife Foundations, provides a checklist for common home hazards and how to fix identified problems.
The home fall prevention checklist for older adults
As you think through your home or the home of your loved one, think about how you might respond to each of these questions posed below. If you answer "Yes" to any of the questions, you may want to consider the associated recommendation.
Do you need to walk around furniture?
Move to create a clear path
Do you have throw rugs on the floor?
Remove, use double side tape or non-slip backing
Are there objects on the floor? Do you have to walk around wires or cords?
Keep objects off the floor
Are there papers, shoes, or other objects on the stairs?
Keep the stairs clear
Are some steps broken or uneven? Is the carpet loose or torn? Are handrails loose? Are rails on one or both sides?
Fix, replace or install new
Is there a light over the stairway? Where is the switch? Is the light bulb burned out?
Add light at top and bottom of stairs, have someone change bulb
Are things on high shelves?
Move most used items to waist level
Is the tub or shower slippery?
Place nonslip rubber mats or self-sticking strips on the floor of the tub or shower
Do you have support to get in and out of the tub or up from the toilet?
Have a carpenter install grab bars
---
Take a minute to look at each of these pictures and see if you can find the hazards.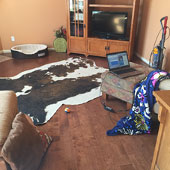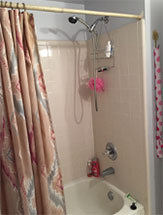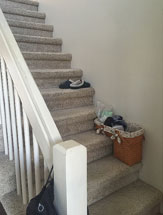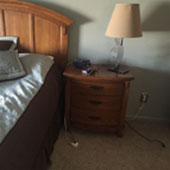 The Home Falls and Accidents Screening Tool (HOME FAST)
The Home Falls and Accidents Screening Tool (HOME FAST)is a tool to guide home assessments by health care providers. The 25-question tool has evidence of consistency and fair to good reliability when used by therapists. Some of the questions included are…
Are the outside paths, steps, and entrances well-lit at night?
Is the person able to get in and out of the bath easily and safely?
If there are pets – can the person care for them without bending or being at risk of falling over?
HOP-UP-PT has had success using this tool for the environmental assessment domain of the program assessment. Therapists have identified it as easy to use and aiding in the identification of areas for recommended improvement during the initial home visit.