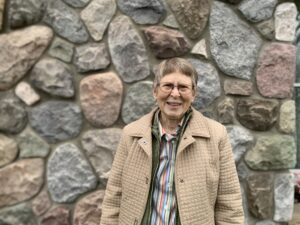 Fran, in her 80's, is very independent and active. She enjoys fitness classes, crafting, quilting, and engaging in community activities. She sets a great example for committed physical activity for her neighborhood by walking regularly with neighbors. Fran became interested in HOP-UP-PT because she noticed a bit of a decline in her activity and was very interested in reducing her potential risk of falling.
She first learned about HOP-UP-PT at the Auburn Hills Community Center and participated in the program under the guidance of Dr. Lori Boright. Dr. Boright emphasized the more advanced balance exercises of the Otago exercise program while maintaining her regular walking and group exercise activity.
The Otago balance exercises are easy to incorporate into your daily routine, while working in the kitchen, or simply walking down the hall.
Fran has found the exercise program helpful, particularly during the periods of restricted access to group activities, during the COVID-19 restrictions.