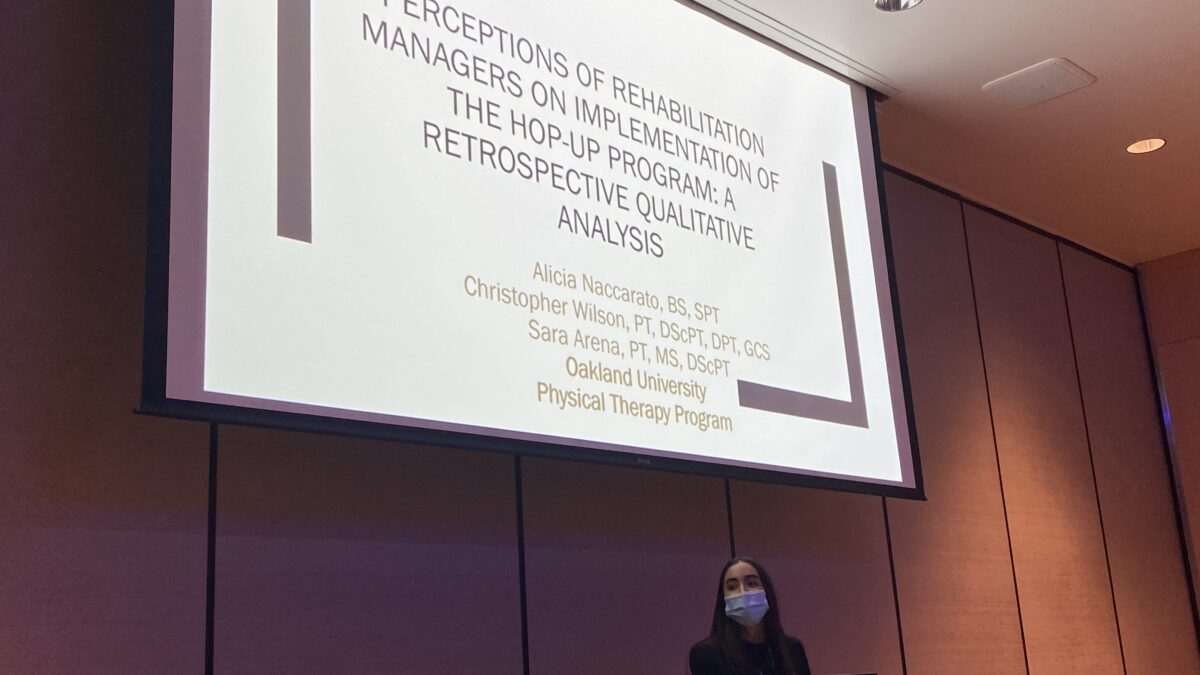 The HOP-UP-PT was well represented at a recent state physical therapy conference. At the 2021 American Physical Therapy Association (APTA) – Michigan Fall Conference in Detroit, Michigan in October, the HOP-UP-PT team was busy sharing the cutting edge research findings with physical therapy colleagues. HOP-UP-PT, LLC was founded and is based in Michigan, USA.
The APTA Michigan's Institute for Education and Research selected the HOP-UP-PT program as the Outstanding Professional Poster for 2021. The poster was entitled Falls and Risk Metrics of HOP-UP-PT Participants: Preliminary Outcomes of a Randomised Controlled Trial. The authors of the study were Dr. Sara Arena, Dr. Chris Wilson, and Dr. Lori Boright. The study found that the HOP-UP-PT Program has emerging evidence for its efficacy in reducing falls and fall risk indicators in an older adult population at risk for functional decline. Those in the experimental group experienced 45% fewer falls when compared to those in a control group. This is clinically relevant in physical therapy practice as HOP-UP-PT uses a novel prevention focused approach that is delivered by PTs in the home of at-risk older adults who are referred from senior community centers thereby using a targeted population health approach to care delivery.
Another HOP-UP-PT study was presented by Alicia Naccarato at the APTA-Michigan conference in a featured research platform. Naccarao, a student at Oakland University, presented her Honors College Research with Drs. Wilson and Arena who served as faculty mentors and co-authors on the study. Naccarato's study was entitled Perceptions of Rehabilitation Managers on Implementation of the HOP-UP Program: A Retrospective Qualitative Analysis. This study identified key benefits of rehabilitation managers' implementation of the HOP-UP-PT program. These included benefits to the community through partnership and leveraging current physical therapist skills to deliver this new program. This study was recently published in the Cureus Medical Journal (June 2021).
These new and exciting research findings promise to further the expansion of the HOP-UP-PT program to empower older adults to stay safe and independent with the support of physical therapists.