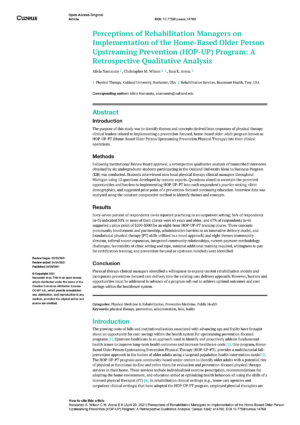 Naccarato A, Wilson C M, Arena S K. Perceptions of Rehabilitation Managers on Implementation of the Home-Based Older Person Upstreaming Prevention (HOP-UP) Program: A Retrospective Qualitative Analysis. Cureus 13(4): e14760.
doi: 10.7759/cureus.14760
Introduction:
The purpose of this study was to identify themes and concepts derived from responses of physical therapy clinical leaders related to implementing a prevention-focused, home-based older-adult program known as HOP-UP-PT (Home-Based Older Person Upstreaming Prevention Physical Therapy) into their clinical operations.
Methods:
Following Institutional Review Board approval, a retrospective qualitative analysis of transcribed interviews obtained by six undergraduate students participating in the Oakland University Ideas to Business Program (I2B) was conducted. Students interviewed nine local physical therapy clinical managers throughout Michigan using 12 questions developed by content experts. Questions aimed to ascertain the perceived opportunities and barriers to implementing HOP-UP-PT into each respondent's practice setting, clinic demographics, and suggested price point of a prevention-focused continuing education. Interview data was analyzed using the constant comparative method to identify themes and concepts.
Results:
Sixty-seven percent of respondents (n=6) reported practicing in an outpatient setting; 56% of respondents (n=5) indicated 50% or more of their clients were 65 years and older; and 67% of respondents (n=6) suggested a price point of $200-$500 for an eight-hour HOP-UP-PT training course. Three concepts (community involvement and partnership, administrative barriers to an innovative delivery model, and foundational physical therapy [PT] skills utilized in a novel approach) and eight themes (community altruism, referral source expansion, integrated community relationships, current payment methodology challenges, favorability of clinic setting and type, minimal additional training required, willingness to pay for certification training, and prevention-focused or upstream mindset) were identified.
Conclusion:
Physical therapy clinical managers identified a willingness to expand current rehabilitation models and incorporate prevention-focused care delivery into the existing care delivery approach. However, barriers and opportunities must be addressed in advance of a program roll-out to achieve optimal outcomes and cost savings within the healthcare system.